HURCO VMX6030i
Performance Machining Center VMXi Series
The Hurco VMX6030i CNC vertical milling machine is an industry workhorse with extended Y-axis travel. The VMX i-Series CNC machining centers are the perfect combination of performance and flexibility.  With its large work cube, it allows for more flexibility for a wider variety of work.  High torque, fast feed rates, and a heavy rigid frame allow for the best quality and performance for almost any application.  Exceptional cutting feed rates are achieved with patented high-speed motion technology – resulting in the fastest cut with the best surface finish.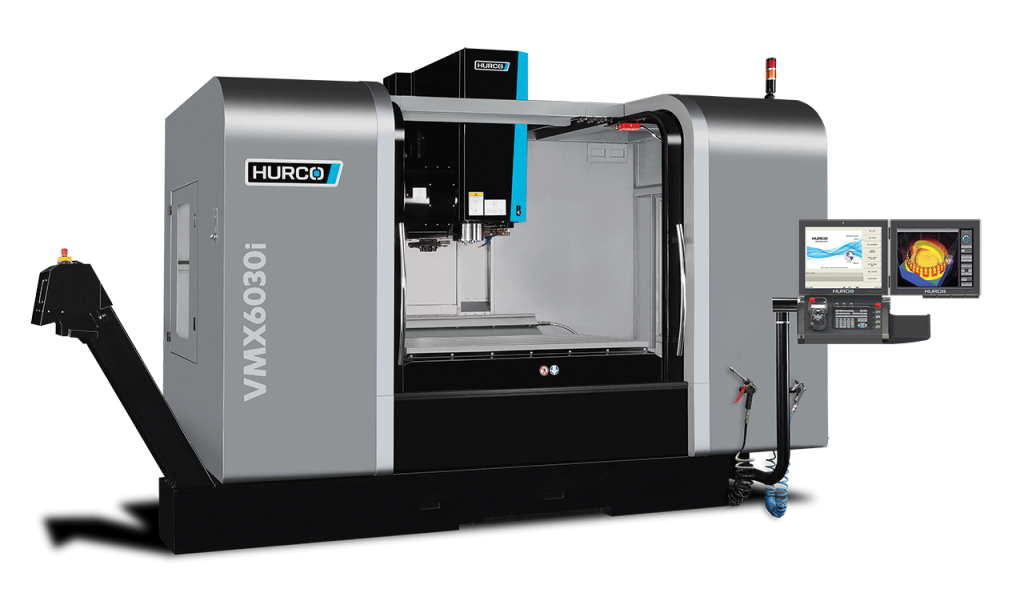 HURCO VMX6030i
Our signature line of VMX machining centers takes machining to the next level. These machines deliver high performance capabilities to any machining application. Whether you are doing batch production or die/mold work, the VMX mills will make you more profitable.
  Machine Specifications

| | |
| --- | --- |
| X, Y, Z Axis Travel | 60 x 30 x 24 in (1,524 x 762 X 610 mm) |
| Spindle Nose to Table Min/Max | 4.0 in / 28 in (102 mm / 711.5 mm) |
| Table Size | 66 x 30 in (1,676 x 762 mm) |
| Max Weight On Table | 3,000 lbs (1,360 kg) |
| T-Slot Size | 7 x .71 in (7 x 18 mm) |
| Peak Spindle Motor | 24 hp (18 kW) |
| Spindle 12,000 RPM | 175 ft lbs @ 720 rpm (237 Nm @ 720 rpm) |
| Number Of Tools | 40 |
| Tool Type | CAT 40 |
| Max Tool Diameter | 3.1 in (78.7 mm) |
| Max Tool Length | 11.8 in (300 mm) |
| Max Tool Weight | 15.4 lbs (7 kg) |
| Max Programmable Feedrate | 787 in/min (20 m/minute) |
| Rapid Traverse X,Y,Z Axis | 1,181 in/min, 1,181 in/min, 787 in/min (30 m/minute, 30 m/minute, 20 m/minute) |
| Machine Height | 120 in (3,048 mm) |
| Required Floor Space | 223.5 in x 207.7 in (5,676.9 x 5,275.6 mm) |
| Machine Weight | 21,826 lbs, 22,267 lbs (9,900 kg, 10,100 kg) |