HURCO High Speed VMX24HSi and VMX42HS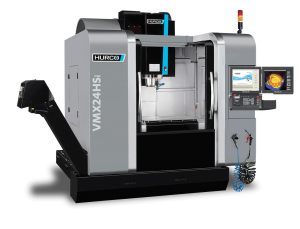 The HURCO VMX24HSi and VMX42HSi feature Hurco's Ultimotion motion-control system, which reduces machine jerk while improving surface-finish quality. An integral spindle features an 18,000-rpm base speed spindle and is equipped with ABEC-7 ceramic hybrid bearings to manage thermal issues associated with high speed milling (HSM), the company says. Air-over-oil spindle lubrication distributes oil evenly to the bearing. An automatic toolchanger with HSK tooling is said to provide a chip-to-chip time of 4.5 sec.
Larger linear rails are mounted to a machined shoulder for increased rigidity and wedge-locked to the frame to reduce vibration. Pre-loaded and stretched ballscrews are anchored at both ends. The Hurco integrated control is optimized for HSM with a 64-GB solid-state drive, 2 GB of memory, a 2-GHz dual-core Intel processer, processing speed ranging to 2,277 bps and dynamic variable look-ahead with capacity of 10,000 blocks.