Shop Solutions: HMC's Precision Puts Clamps on Leaky Pipelines
This article was first published in the March 2015 edition of Manufacturing Engineering magazine, 3/1/2015. Click here for PDF.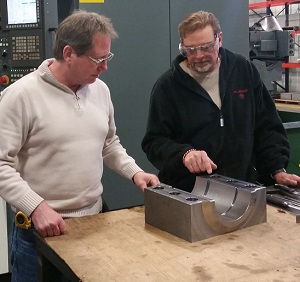 PLIDCO-The Pipe Line Development Co. (Westlake, OH), founded in 1949 by Joseph B. and Berneice K. Smith, manufactures high-pressure pipeline repair and maintenance fittings for onshore and offshore applications for the global gas, oil, water, chemical, steam, and slurry industries. Its high-pressure clamps and fittings are used to quickly and safely repair pipelines to avoid or minimize costly and dangerous shutdowns, saving risk, time, and money for customers on land or subsea around the world. Kimberly Smith is the third-generation president and general manager of the family-owned company. "PLIDCO prides itself on the quality fittings that leave our dock and make their way across the globe to make hazardous piping safer," said Smith.
Dan Shaw (left), CNC programmer, and Pete Haburt, sales manager, inspect half of a 6″ 3705wp PLIDCO Split+Sleeve that is being manufactured on a Kitamura HMC for Tremco Pipeline Equipment Co. in Australia.
"We are the first responders, the emergency room for the global pipeline industry when they develop leakage in pipelines on land, in refineries, or subsea that are carrying hydrocarbons, natural gas, chemical products and oil," said Pete Haburt, PLIDCO sales manager. "Our products are code-engineered and precision-manufactured from designs drawn from the ASME section 8 codes, the API 6X codes, and B31 codes for different industries," said Haburt.
PLIDCO's precision-machined components are designed to withstand pressures up to 10,000 psi (69 MPa) and temperatures that range from −250° to 1100° F in API pipe sizes from 1 ½ through 48″ (37–1219 mm). The PLIDCO facility has ISO 9001:2008 and ISO 14001: 2004 certifications and occupies 56,000 ft2 (5202 m2) of office and factory space. Manufacturing processes include all of the standard fabrication and machine tools plus special equipment required to completely manufacture standard and special fittings.
PLIDCO's product categories include leak enclosure fittings for high-pressure lines, connector fittings for pipeline repair, hot tapping and line plugging fittings, and custom-designed fittings. "The purpose of our ten or so product lines is to provide an engineered solution for the various types of problems that can be encountered," said Haburt. "They require precision machining and a substantial amount of welding. We form plate and weld on the side bars to form our basic shell and make our sleeves out of varieties of low-carbon steel.
To increase production and versatility of its machining of Split+Sleeves from the smallest up to 30″ (762-mm) long PLIDCO acquired a twin-pallet Kitamura HX630iTGA 630-mm horizontal machining center, through Tipton Machinery (Cleveland, OH). The Kitamura HX630iTGA, which has been in service a little over a year, features a high-torque, four-step geared spindle that can deliver torque up to 680 ft-lb (921 N•m). The HX630iTGA features box-way construction and twin ballscrews for heavy-duty accurate cutting of harder materials.
"Formerly, a lot of our products were machined on older-style manual machines that typically required that we machine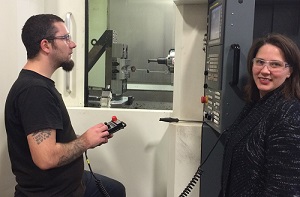 clamps and fittings on multiple machines," said Dan Shaw, CNC programmer. "With the Kitamura horizontal, we can machine all operations completely on a single machine, which improves throughput and accuracy. And having two pallets, we can set up one piece while another one is still running so that we have continuous production. In addition, the two-pallet system and rotary table enables us to set up fixturing by part family and switch between sizes within families quickly compared with the manual machines," said Shaw.
Kimberly Smith, president and general manager, and operator Nick Panza with the Kitamura HX630iTGA 630-mm HMC machining a 2′ (51-mm) PLIDCO Split+Sleeve fitting for the pipeline and repair industry.
A definite benefit of having the advanced machining capability of the Kitamura is the new tooling available to PLIDCO that can be used on the CNC machine. "The old-style blade tooling that we used on the manual machines for holemaking for studs required a lot of torque and was expensive. The new CNC tooling for the Kitamura CNC is carbide or coated inserts that are less costly, very repeatable without resetting and requires a lot less torque and horsepower," said Shaw. For its largest workpieces, parts up to 118″ (2997-mm) long, 60″ (1524-mm) wide and weighing in at 15,000 lb (6804 kg), PLIDCO uses a large vertical machining center. Programming is done with Mastercam, which has postprocessors that can be customized to each machine.
"With the Kitamura, it takes about 20% of the time to make the same size hole that it took with the manual machines. With its newer controller and tool probing capability to find the workpiece, the Kitamura HMC has reduced machining time significantly and increased production to 60%." According to Kimberly Smith, the Split+Sleeve is the fitting sold most often to PLIDCO customers around the globe. "Saving time in the manufacturing process shortens customer delivery times and allows for emergency stock quantities to rise. That makes everyone happy from the factory through the distributor and to the end user," said Smith.
PLIDCO founder, Joe Smith, had a saying, "One quick look at any of our products reveals their quality. As I said before, we do not care to be the biggest, we want to be the best." To that end, the recent purchase of the Kitamura and the quality fittings it is producing is keeping the third generation of PLIDCO right on track.