Five-Axis Focus at Hurco's 50th-Anniversary Event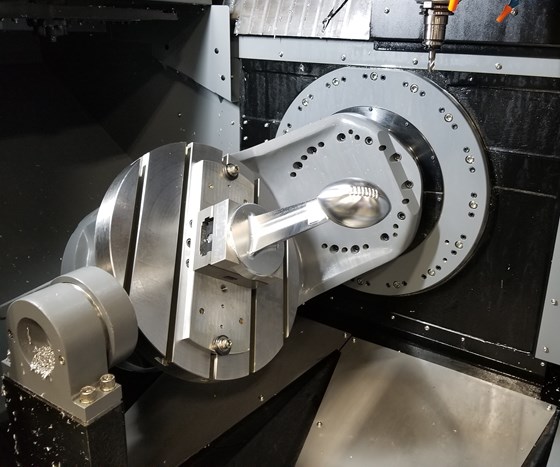 Putting five-axis machines front and center, machine tool builder Hurco opened the doors of its Indianapolis, Indiana, headquarters last month to celebrate the company's 50-year anniversary. Hurco marked this event by giving tours of its facility and demonstrating the capabilities of its machine tools, including sneak peeks at two new models that will be introduced at the International Manufacturing Technology Show (IMTS). The open house event also featured music, a speech by Indianapolis Mayor Joe Hogsett, an appearance by National Hot Rod Association racer John Force, and a presentation about five-axis machining strategies by Hurco Product Technical Specialist and author Mike Cope.
Hurco prominently displayed five-axis vertical machining centers (VMCs) during the event, including the VC500i, a trunnion-style machining center capable of full-five-axis machining. The machine can handle workpieces as heavy as 550 pounds with a work area of 520 by 450 by 400 mm. It has a solid iron frame for increased stability, and the table rotates in the B axis 110 degrees in either direction for machining hard-to-reach areas.
With a 30-tool automatic tool changer magazine, the VC500i can perform numerous complex operations in a single setup. On display was a smooth, aluminum replica of the Lombardi trophy milled on that very machine.
Hurco has a reputation for emphasizing the advantages of five-axis machining be it 3 + 2 positioning or full-five-axis contouring. In addition to offering training sessions for five-axis machining, it maintains a website with information about five-axis machining that features articles and training videos. The company's own Mike Cope, author of The Power of Five: The Definitive Guide to 5-Axis Machining, gave a presentation on five-axis machining, which he believes will be the future of the industry thanks to its versatility and time savings.
Another five-axis machine, the VMX42SRTi, offered flexibility as its chief draw. The machine includes a C-axis rotary table mounted inside of and flush with the larger rectangular table that moves in the X and Y axes. The swivel-head spindle rotates in the B axis in addition to moving along the Z axis. Users can clamp a workpiece into a vise on the rotary table for five-axis machining, then flip the part to finish the sixth side in a vise on the other side of the table. Furthermore, users can remove all vises to machine larger parts in three axes or perform both three-axis and five-axis runs on two separate parts fixtured on the machine.
The company also displayed machining centers outside its five-axis offerings, including two new models that will be introduced at IMTS. These included the HTL series turning center, a machine that can be programmed via CNC or operated manually. It is designed for toolroom work, but also functions as a stepping-stone into CNC machining. The Bx50i is a dual-column, bridge-type VMC designed with mold making in mind. It has a large workzone, and its size and rigidity enable it to perform effectively at high speeds. Having a maximum spindle speed of 18,000 rpm, the machine is capable of attaining tight tolerances and quality surface finishes on large workpieces such as mold cores and cavities.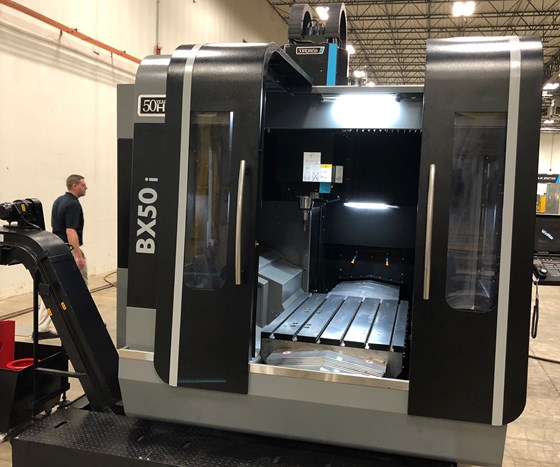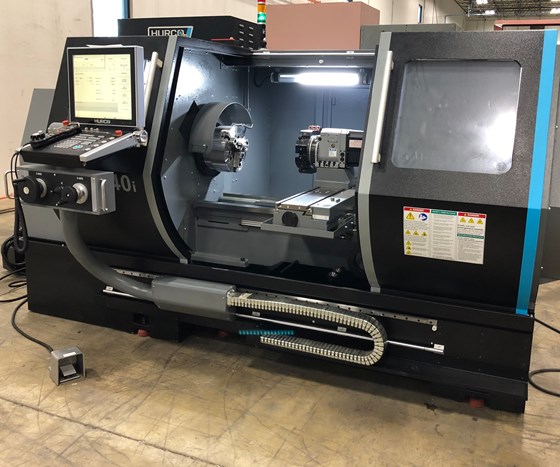 Superior Features of the HURCO MAX5 CNC Control


Request A Quote